The curtains are an integral part of every household. If you are poor or rich, the curtains will be a necessary part of your home as it protects your privacy. Houses cannot be built without windows and all the windows cannot be blinded because it will kill their purposes. As per the hygienic point of view, fresh air and sunlight also important. Otherwise, the house can become Breeding grounds for microbial organisms. Sheer curtains from Box Hill are used to control the amount of light that can enter your house.
But, they are also a strong tool for decoration of home those who can afford, spend a handsome amount of money on curtains. As curtains help to increase the aesthetic of the place, block excess sunlight to enter and stop others from peeking in your house.
The curtains are made from different materials depending upon the choice of person and many times as per their utility. Each material has its pros and cons, but it all depends upon the taste and choice of the selector. Some of the common material in use are as follows;
Polyester Curtains
Polyester itself is one of the most used fabrics in the world. It has extensive applications in garments and the same in the case of curtains. The polyester curtains are cheap as compared to other material's curtains. They are also durable and sturdy, which requires minimum maintenance. They are perfect for bedrooms or living but they should be avoided in the kitchen, as polyester is flammable. It also absorbs odor and can limit air circulation.
Otherwise, it is available in a wide range of colors and patterns, which made it an easy choice for the home. If you are not phobic about décor and want utility built curtains for your home, then polyester is an ideal choice.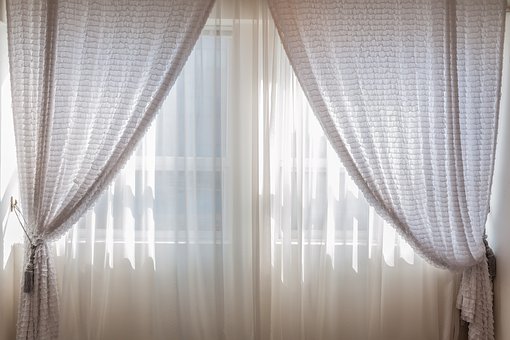 Cotton Curtains
One can easily say that cotton is the most popular material for Curtains. People prefer cotton because of its fresh and crisp look. Cotton fabric helps in reducing sunlight along maintain the air circulation. At the same time, they can provide privacy, ample light and air for the room. Cotton curtains are available in a wide range, color, and patterns. They are easy to maintain and washable at home. People who prefer modern plus contemporary look for their curtains will use cotton.
Linen Curtains
The linen is billowy fabric which provides the perfect look to your living room. This fabric doesn't block the sunlight fully which allows maintaining the natural light in the room. The linen curtains will only be dry cleaned and they need a bit more maintenance as compared to cotton and polyester.
Silk Curtains
Whenever the word "Silk" comes in mind, it stands for luxury. The same is the case in terms of curtains. The silk curtains give the elegant, sophisticated and luxurious look to your room. They are solely used to enhance the ambiance of any place and usually silk curtains are heavier than other materials. It also needs special maintenance. But if you have love of silk and wants to see its elegance, then go for it.